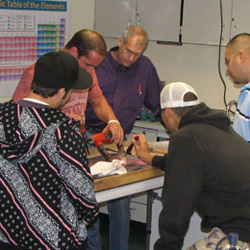 TRAINING: What It Takes to Make It Happen
• Technicians wanting to further their NDT qualifications need to minimize billable hours lost to training efforts;
• Managers who oversee third party inspection processes need concise information that is immediately useful;
• Employers with globally positioned employees require easy access to training opportunities; and
• Individuals wanting to start a first or new career have to balance hours spent training and their current occupation.
Each situation requires a unique way to deliver critical information and what might be a perfectly acceptable delivery method for one is untenable for another. Consequently, NDT Training Center courses have been designed for a wide variety of people and the demands that their diverse schedules dictate.
---
Training in a Conventional Classroom Setting
Classroom Training offers students the opportunity to attend one of our scheduled, high-impact courses held at our campus in Houston, Texas and fulfill all the formal training recommended in the ASNT document for qualification and certification of NDT personnel: SNT-TC-1A.
In-depth lessons followed by quizzes cover the theory and application of the method. Ample opportunities are provided for hands-on experience with tools and techniques. And finally, valuable interaction with the instructor sets up the optimal environment for preparing students to confidently enter the work place. Review the Course Catalog to learn about descriptions and details pertaining to each one of our course offerings or take a look at our Classroom Schedule for dates of upcoming classes.
We certainly believe that "one-on-one" time is a critical component in the learning process, so we intentionally limit class size to accommodate instructor/student interaction. Consequently, the rule is "first come, first serve," so enroll early to reserve your place by calling 713-849-4006.
---
Training Off-Campus at Your Location
On-site Training at your location offers you the opportunity to save significant travel expenses for the employees you wish to have trained. and still fulfill all the formal training recommended in the ASNT document for qualification and certification of NDT personnel: SNT-TC-1A. We require a minimum number of students, adequate time to schedule the class and appropriate training facilities and resources at or close to your location.
Simply click here to submit a Request for Proposal: On-Site Training form.
---
Online Training for Your Convenience Via the Internet
Web Based Training (WBT) is a self-paced learning medium, including evaluation and testing, made available anywhere, at anytime to anyone having access to the Internet. Recent years have seen an explosion in online training for educators and trainers due to the adaptability, efficiency and ease of use of the medium. NDT Training Center recognized the potential of web based programs of study in 2001 and since that time, our success using the web to deliver "body of knowledge" information about inspection methods has been extremely rewarding, both to us and those that have employed it in their NDT program. Those in the inspection industry that have taken advantage of this form of computer based training have consequently praised and appreciated the benefits. In fact, there are some testimonies of pleased users in the Client Comments section.
Online Training offers students and employers significant benefits: savings in both time and travel expenses. Online Training is a robust tool for anyone who needs the formal studies recommended by SNT-TC-1A, but is perhaps too far away to attend a class at our Houston campus, has scheduling constraints, or needs a handy way of taking a refresher course.
Our online courses have been designed and are administered by our ASNT Certified Level III, Paul Marks and Teddy Levron, Corporate Level III and Lesson Development Specialist. Course material is divided into manageable sections and concludes with a comprehensive final examination covering all preceding material. This final can be used by an employer as a "General Test" for qualification purposes. Most courses have an accompanying download student manual that students can use to follow along and take notes during the online presentation. Upon receipt of payment, you will receive login information, 30 days to complete the course, and applicable reference material included in the course.
The remaining two qualification examinations, the Specific and Practical tests, are not included but can be arranged for by contacting us by phone: 713-849-4006. Download a PDF form to register for the balance of the assessment examinations here.
For more information, see descriptions and details of individual methods in our Course Catalog or sign up for a course today by clicking on Online NDT Training.